I've been teaching piano and voice this semester in Riga, Latvia, in fulfillment of a Fulbright Scholar award. I joined the Jazz Studies faculty at the Jāzeps Vītols Latvian Academy of Music, the country's top conservatory.
I did some teaching and clinics at the Dome Choir School, a prestigious magnet middle/high school for aspiring musicians. I also performed and did master classes around the country. More on that later…
Latvia has a long and impressive choral tradition and are pretty serious about their singing.
Here's a Youtube of a Latvian boy's choir performance:

The singers are fabulous and the Choirmaster is mesmerizing.
My jazz singers were pretty awesome, too. Well-trained in technique, reading and theory, they were also enthusiastic, sweet-natured and absolutely rabid about jazz. A real pleasure to work with.
In July, Riga hosts the Latvian Song And Dance Festival, which takes place every four years. 100K people will be walking around Riga in traditional Latvian dress. As Riga's normal population is only 700K, they will definitely stand out.
The performances are going to be amazing, I'm sorry I'll miss it.
If you wonder why Lativians have such great complexions, they drink a lot of carrot juice.
The music sounds vaguely eastern, it may be because there's an interesting connection between this region and India. Indian historians think that Latvia was originally settled by Indo-Aryans. Of course the Latvian scholars think it's the other way around.
Either way, there are about 250 words Latvian shares with Sanskrit and they share many of their pre-christian gods' names and identities as well.
Here are their symbols representing the different gods:
The designs make for some beautiful jewelry and embroidered clothing.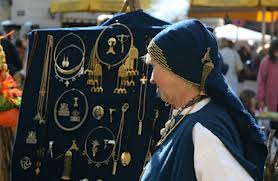 JANUARY/FEBRUARY
On my first day in Riga, my landlady took me for a walk around the city where I learned my first word in Latvian – Atlaides!
I arrived to some harsh weather compared to what I'd left in Los Angeles.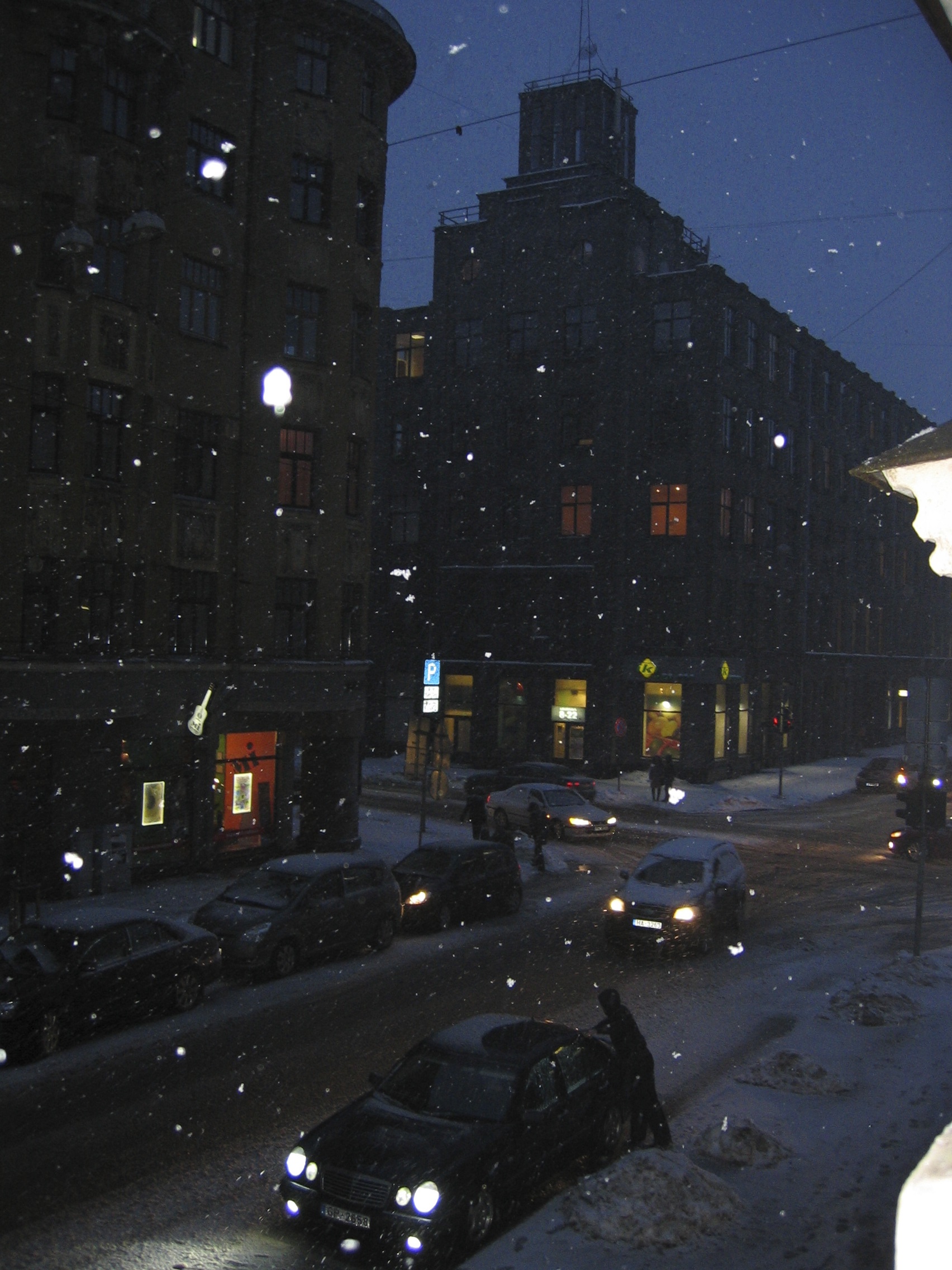 Well, it's 5 o'clock and pitch dark… cocktail, anyone?
Riga is farther north than Copenhagen and Moscow so it gets nippy. Days usually had below freezing temps, with a cold, wet wind blowing in from the river. Nights were face-numbing.
Walking ranged from treacherous to annoying – snow-covered sidewalks force that 'one step forward, half-step slide backward' motion. Just like at the beach, except for the freezing-your-ass-off part.
It was pretty, though, when the sun came out. Sometimes the sidewalks even melted a bit.
I strolled through Vermanis Park every day on my walk to the conservatory. A much prettier and calmer commute than the 10 to the 405.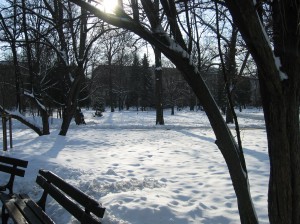 I didn't have a car so the weather forced me to tackle the tram system learning curve.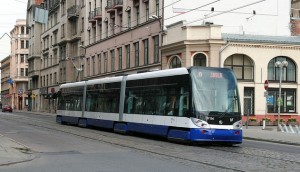 I felt like an idiot the first time – How do you pay? You can pay the driver but they don't look too welcoming behind their plexi-glass wall. There was a way to pay with an E-card, but where do you buy them? And where do you punch them in?
On my maiden voyage, I spent the whole trip squeezing a one Lat coin ($1.90) in my sweaty mittened palm, waiting to be accosted by the ticket control ladies. I'd heard they were tough and might stop the tram and kick you off after some biting public ridicule, which I wouldn't understand since I only knew one word in Latvian – Atlaides. Sale? Sale?
Isn't your first ride free?
                                                           MARCH 
After the initial excitement of this new environment wore off, reality set it and I began to feel isolated and out of sorts.
I grew up in this climate, as I repeatedly assured everyone who asked, so going from palm trees to near-arctic conditions wasn't as extreme as people assumed it to be. But the light deprivation was affecting my mood and walking on dangerously icy streets kept me from exploring, going to jazz clubs and restaurants, as much as I would have. Broken bones from falls were not unusual and the bitter cold made one think twice about venturing out in the evening.
But the biggest factor in my growing sense of isolation was the language barrier. I'd spent extended stays in Europe on tour and thought I wouldn't have much of a problem. What I forgot to consider was during those previous stays I had lived in hotels where people spoke English and I ate in the dining room.
It didn't take long to suss out the language map – people under 30 speak English, very well; between 30 and 40 it's a crapshoot and over 40, forget it. If I got lost, which I frequently did, I would look in a store window and if a 20-something was behind the counter, I knew I could go in and ask for directions.
Latvia has only been liberated from the former Soviet Union since 1991 and kids growing up in that era ("Soviet times" as the locals call it) studied Russian. As a result, they speak it like champs but rarely do you find someone in that age group who speaks English. Also, about 50% of Riga's population is ethnic Russian, and they survive very well speaking only Russian. Similar to Los Angeles, where people can live comfortably speaking only Spanish.
Latvians don't express warm and fuzzies to strangers, at least by American standards. Store clerks can look alarmed if you smile at them. They don't reach out if you appear to be struggling and seem to have a strong distrust of strangers.
There was a book on the State Dept's suggested reading list that I found invaluable to my understanding of this new culture. "The Art Of Crossing Cultures", by Craig Storti, taught me to see a foreign culture through the eyes of the locals instead of my own.
What behavior we Americans might perceive as unfriendly may just be respect for someone's privacy. And in a society that was not so long ago overrun by government informers, it could also be a healthy sense of self-preservation.
I learned that the constant little stressors I was feeling were a sort of psychic death by a thousand paper cuts. Pulling a door handle when I should have pushed, getting lost several times a day, not being able to communicate basic needs – becoming overwhelmed and depressed was a natural and normal response. As Storti says (paraphrasing), "You have to get used to feeling like a mentally-challenged six-year-old. What will make for funny dinner party stories when you get back home aren't funny at all when you're living through them."
So I turned to Google translate, learning a few words every day. It's a small thing but learning the difference between "grûst" and "vilkt" (push and pull) on doors was huge and saved me about 8-10 arggghhs a day.
Grocery shopping took three times as long as it should have. Chicken was recognizable but pork vs. beef? Fish?
I would stand slack-jawed in front of the dairy cooler holding a package of something in my hand. Butter or margarine? Milk or buttermilk?
Ordering from the deli counter? Something I could only dream of doing in the beginning.
Latvians make great salads and I did a lot of pointing and grunting to get some.
One thing that made shopping easier was the currency exchange. The Lat is a little under $2.00 and since things were sold by the kilogram, a rough estimate was $1/lb.
Back to Google translate for more words.
Latvians would ask me, Are you learning the language? Yes, I'd reply, All the important words – chicken, salmon, cheese, lettuce, tomatoes….
One day at the dairy cooler I saw a woman holding a package of sviests and wearing the same dazed, slack-jawed expression I had worn a month earlier. "Excuse me," she said, "do you speak English?"
"Yes," I replied, "I don't speak Latvian though, but I can tell you that's butter!"
                                                           APRIL
Daylight hours are lengthening, the weather is improving and so is my state of mind. I'm getting a handle on the language and have learned my way around.
In an effort to recreate some of the habits and patterns of life back home, I joined a health club. As a life-long gym rat, I feel comfortable in that milieu and the atmosphere and protocols are the same no matter where you are in the world.
I'm amazed at the ease with which the instructors slip between Latvian and Russian, counting out a set of crunches in one language and then the other. I've learned to count to eight in both languages!
I played a concert at a very cool place called Kalnciema Quarter, a set of historic wooden buildings that have been rehabbed into cutting edge designer stores, artisan workshops, offices and restaurants. It's a UNESCO world heritage site, as its style of 18th-19th cent. wooden architecture hasn't survived in most of Europe. Bombs are not healthy for wooden buildings.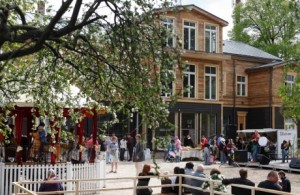 I won't say the piano was old but it had built-in candlestick holders…
Teaching is going well and I'm loving my students' energy. There are a few macho types who aren't used to taking advice from women (I'm looking at you, Vadims!), but for the most part, they're a dream to work with.
Have I mentioned Latvians are tall?
Inga Berzina, my vocal jazz counterpart at the Academy who has become a good friend, thought it was hysterical when I was trying to reserve teaching space for piano students with the non-English speaking room manager and just kept repeating the one Latvian word I knew at the time – labs (good). I need a labs piano! Labs, please!!
I was invited to join the judging jury for the Riga Jazz Stage vocal competition, in association with the annual Rigas Ritmi Jazz Festival. It began with 75 aspirants from all over Europe, whittled down to a top 12 who performed for 2 nights along with some professional appearances. One of my students, Evilena Proteckor, made the finals and, I don't know why, but I thought she was the best.
It was a gas meeting and working with the international judges, who are all involved in the European jazz scene as players, educators, composers and promoters.
Good stories, cameraderie and the best part? English was the common language. Sweet relief after two months of wandering through a linguistic desert.
MAY
"Riga becomes magical in the summer," says Kerri from the US Embassy, and she is right on.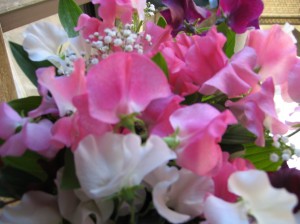 Summer is finally here.
The park I walk through on the way to school? Greeny green green now.
Daylight hours  linger well into the evening, pushing toward 10PM. At night, there are fairy lights in the trees and the undersides of the curved stone bridges over the canal glow an ethereal blue. People are strolling, sitting on benches soaking up the sun, and smiling!
Tourists have appeared and I'm hearing more English on the streets than I've heard in the previous four months combined.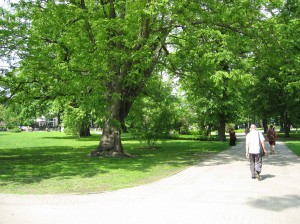 Nearly all of the cafes and restaurants are building outdoor seating areas – a lot of sawing, hammering and painting going on. Do they tear these structures down when the weather gets cold and rebuild every spring?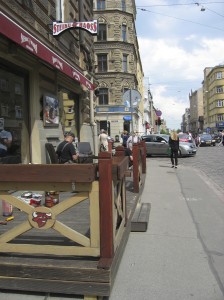 I performed a concert at the Academy, playing with two very accomplished students, bassist Edvins Ozols and drummer Rudolfs Dankfelds.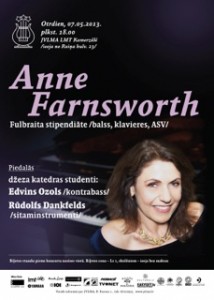 They played great and we had a lot of fun. I would hire them anytime.
There are more videos on my YouTube channel – AnneFarnsworthMusic
https://www.youtube.com/AnneFarnsworthMusic
The shopping thing is finally under control. I'm fortunate that one of Riga's larger open air markets, Vidzemes Tirgus, is a block from my house. Each door to the huge stone building has the name of the food group sold in that section.
I've learned which vendors aren't annoyed by my language deficiencies and which ones were taking advantage of my initial poor understanding of the currency. An expensive lesson.
I've settled on a bread lady, egg lady, fruit lady, you get the idea. At this point I know enough Latvian to select amounts and understand what they're asking me to pay.
The problem now is some of the vendors think I speak more Latvian than I do and start chatting with me. I have absolutely no idea what they're saying so I just mirror their facial expressions. If they look happy, I nod my head and smile. If they seem unhappy, I frown and look concerned.
The older ladies have been the nicest, taking a motherly interest in my welfare. Which sauerkraut should I get? 'Oh, try this one – it has caraway seeds! Or do you prefer garlic?'
Very excited to see raw milk products sold here without any OMG-we're-so-cool fanfare and the accompanying nose bleed prices. Cheese, butter, yogurt, sour cream, for about the same prices as pasteurized.
Suck it Whole Foods and your $8 quart of raw milk!
For liquid dairy, you bring your own containers which they fill from pitchers. Piano wire is used to cut slices of butter from long rectangles. It's all very farmstead and homey, although I'm careful not to annoy the piano wire ladies.
Riga's main market is the Centraltirgus. Housed in 5 WWI-era zeppelin hangars, it's the largest and oldest open air market in Europe.
It's a bit far from my apartment for daily shopping but I've been a couple of times for fish.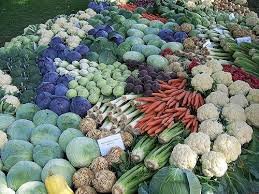 There are a mind-boggling 3000 vendors in the warmer months.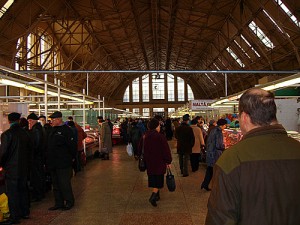 Inga Berzina and my students will be disappointed if I didn't mention my discovery of, and immediate addiction to, berzu sula, or birch sap, which they found hilarious.
The spring tonic appears without warning in late March and, a few weeks later, disappears just a quickly.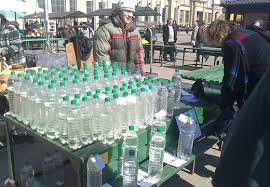 Packaged in ratty-looking plastic bottles with no safety caps and a dodgy-looking waxy scum floating on the top, birch juice is a traditional kidney/liver cleanse, blood purifier and all around healthifier. I loved it and was drinking a couple of liters a day for the few weeks it was around, to the amusement of all.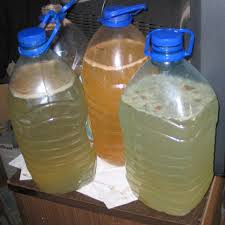 Inga and I drove up to Cēsis, a town of 18K people northeast of Riga, so I could do a teacher training seminar at the Alfred Kalnins School of Music.
It was a three hour drive up to the former market town, which dates to medieval times. They've got a castle!
It's a beautiful place and, as I was informed by several proud locals, older than that Johnny-come-lately down the road, Riga.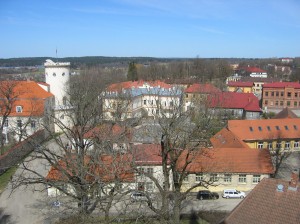 Inga was a trooper. After driving us there, she had to translate the entire two-hour master class. English is not her forte, it was an exhausting day for her.
After the seminar, we had lunch, walked around the town and stepped inside St John's Church, built in the 13th cent., where an ancient docent told us we could climb up to the bell tower.
As we worked our way up the several floors to the top, the ascent became more and more treacherous. Winding stone stairs were replaced by wooden your-grandmother's-attic-y sorts of stairs which led to rickety ladders that looked like original equipment. There were no lighting or safety features. Apparently Latvia is not a very litigious society; there's no way something this hazardous would be open to the public in the States.
But the view was worth the potential bodily harm.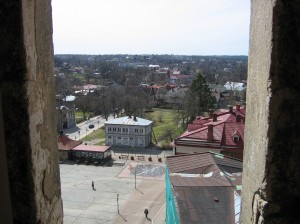 JUNE
The semester is winding down and so is my time here in Riga. Finals period is in full swing, which means juries, the final exams for performance classes. The students play before a jury of faculty and are graded on their performance.
We're doing juries at both the Academy and Dome Choir School and I'm loving the way drummer Tālis Gžibovskis, the jazz chair at Dome, is running the deliberations that take place after their jury performances.
Academics have a tendency to be long-winded *cough* and in love with the sound of their own voice. That can make for excruciatingly long faculty meetings.
Tālis, on the other hand, runs the discussion like John McLaughlin of the old news analysis show, The McLaughlin Group – throwing out a student's name and pointing to a guest, er professor, for a quick yea or nay and some hastily mumbled commentary before moving down the table. If you've seen the show or the SNL skits spoofing it, you know exactly what I mean. Never in the halls of academe has so much been accomplished in so little time.
Since the discussion was taking place in Latvian, I was only getting about 40% of the conversation. So when it abruptly ended I thought we were taking a break. How my heart soared when Inga said, "Nope, we're done!"
I want to say a few words about Inga Berzina who, as I mentioned earlier, has become a good friend and was so helpful and generous getting my teaching situation organized.
But first, you should know that Inga is a very popular name in Latvia. Since I know three Ingas, I've given them nicknames to save confusion when talking to the folks back home. Inga Berzina is Inga Voice;  my big-hearted, chain-smoking landlady is Inga Landlord and the fantastically accommodating and endlessly patient Inga Bodniece at the US Embassy is, of course, Inga Embassy.
Inga Voice is a wonderful teacher and an amazing vocalist. She's in high demand in the Baltics and Russia as an educator, recording artist, jazz camp superstar, competition adjudicator and all-around good egg.
Her Academy voice students took double lessons this semester, their regular weekly classes with her and an extra one with me; unlike some of her peers who handed me their classes and ran off to join the circus.
At the Dome School, I sat in on her lessons, adding my observations and suggestions.
Inga's just released a new CD, Neizteiktie Vardi  (Unspoken Words). It's a collection of Latvian pop tunes with jazz arrangements. Hmm, where have I heard that concept before? Speaking of which, Sealed With A Kiss is now out in Mp3 and Hi Res! Hee hee, back to Inga…
Jazz singing in Latvian is not easy but Inga makes it flow. I particularly like the opening track, "Atceries Mani Vel" (I Still Remember).
Here's a YouTube of one of the songs on her CD,  "Reiz Nāksi Tu" (Once You Come In).
She's awesome, 'nuff said.
My brother Dave has come to visit me. Yay! Company!
He's a ham radio nut and apparently it's a thing to broadcast from different countries. He said there's 350 countries in the world and he's only hit 35, so imagine his excitement having all these tiny countries to knock off the list.
Picked him up at the airport and our first stop was a wine bar that was hosting a free wine tasting event.
Dave's doing Tex Avery-style boggling at the assortment of blondes wandering about, I'm just interested in the vintages. Welcome to Latvia!
Took him to one of my favorite restaurants, Kalku Varti, in Old Town. The food is locally sourced, creatively presented and delicious. I'm not a picture-taking type of foodie but had to snap our desserts, they were so whimsical.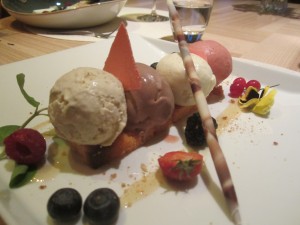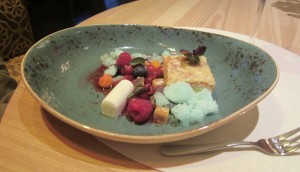 We drove up to Estonia just over the border so he could transmit and then he took off alone for Lithuania and Poland.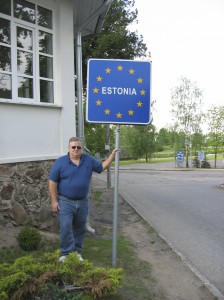 When he returned we took a 15 hour train trip to Saint Petersburg.
There was no food on the train but they did attach a bar car after four hours. Priorities!
I ordered a martini and the barmaid slammed a pint of vodka and two shot glasses on the counter like some old-timey saloonkeeper. It had been hours since we last ate so the crew scrounged up some cheese cubes and a tin of Pringles. Oh, and there was beer.
Hundreds of miles from nowhere, in the middle of the forest,  we were awakened at 2 AM for a border crossing – young, strutting country bumpkins with AKs slung over their shoulders, accompanied by menacing guard dogs. Okay, overnight train to Russia with intimidating passport control inspection is officially off my bucket list.
Dave asks, Is this the part where they take us out in the woods and shoot us?
My question is, Do they know those hats look way too big for their heads?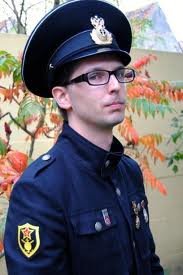 Saint Petersburg was brilliant but I couldn't wait to get back to Riga. Ironic, considering my long Latvian learning curve, but seriously – Cyrillic street signs? Really?
Latvia does a lot of smart things that we don't do. For instance, their streetlights turn yellow before turning green, not just before red. Saves a lot of "wake up, dammit!" honking.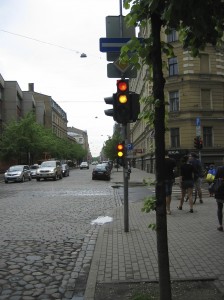 Retail packaging is much greener than in the west. Cereal comes in bags instead of boxes. Actually, a lot of things come in bags – milk, yogurt and other items you'd never think of as bag-able.
Attirance, my new favorite skin care products store (sorry Body Shop), sells soap by cutting off slices, like butter, and then weighing the bars and wrapping them beautifully.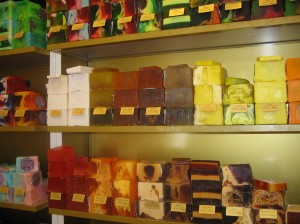 I went to listen to a student, the aforementioned Evilena Protector, sing at a local club. Her voice is amazing and I predict a bright future for her. It was fun hanging out and sitting in with the band.
What an interesting surname she has and she was definitely one of my protecters during my time in Riga.
Inga Landlady took me to Jurmala, the seaside, to visit her weekend cottage. There are actually two building on her 'compound', which she is in the midst of renovating.
I had been there during the winter but now it was full summer and pretty sweet.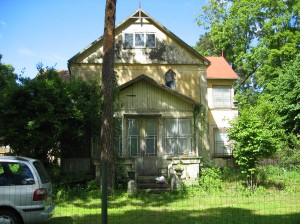 We spent many wine-soaked nights discussing politics. I don't think I've ever discussed Lenin, Stalin, Gorbachev and JFK in a single conversation before in my life.
Inga Voice has invited me to her weekend place, her childhood home, in Smiltene. The backyard slopes down to a beautiful lake and is the perfect spot to decompress.
They have a traditional sauna house that is heated with wood. Her husband got the stove going and we ladies took a late-night sauna.
There were birch branches for slapping ourselves with but Inga said that's more of a guy thing…
After a few minutes in the heat we would stumble down to the freezing lake and jump in. It was so cold my screams were echoing off the trees on the other side of the water. Mind-numbing, heart-stoppingly cold. It got easier about the third time around. Plus, there was beer.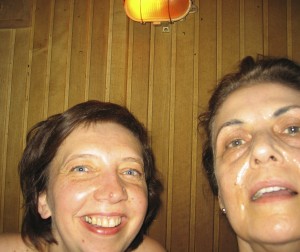 The next day, the neighbors hosted a luncheon that lasted four hours. There was food, drink, music and a host of guests wandering in and out.
Wife plays guitar while husband opens wine. Good marriage.
Most of the conversation was in Latvian so I just ate, drank and nodded a lot.
Since Inga is over 40, she may need some help reading this blog. Ask one of your daughters to translate for you, Inga!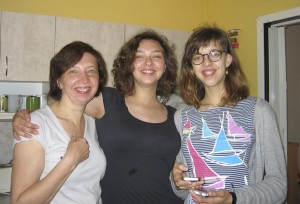 My six months in Latvia have come to an end. No big thoughts or final summation to close with; I've pretty much expressed it all. Just a big thank you to all my students, colleagues, Embassy staff and everyone else who guided me through this amazing experience.
The night before I left, Inga and I had a last meal and I gave her my hat to remember me by.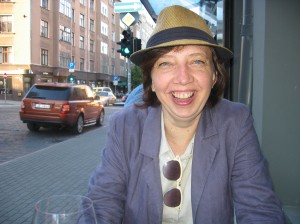 Ciao, Riga! Es garām jums!*
*I've been informed that Google Translate is ridiculously archaic so instead of saying, 'I will miss you', I've probably said 'I shalt miss ye', or something biblical like that.
(225)