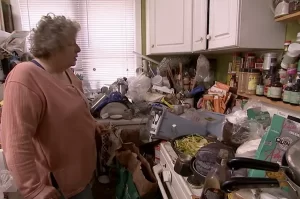 If I binge watch Hoarders, a show about people with an obsessive compulsive disorder who can't stop collecting things, am I hoarding Hoarders?
Dr Suzanne 'Zataran' Chabaud, Dr Robin 'Cheryl Tiegs' Zasio, The cool Dr Melva Green and affable Dr David Tolin. A dream team of mental help.
Suzanne says – When the objects go, the emotions will flow.
And the cleaning specialists – lovable Dorothy, sanguine Cory and Matt the wild card.
"Don't eat while watching" should be a warning. Food-centric episodes are the worst, like the lady hoarding rotten food for her sinner children to eat after she's taken by the rapture.
Joyce season 7 – 'I know I should clean up…. BUT I DON"T FEEL LIKE IT!
I know when I drive I should follow the rules of the road….BUT I DON"T FEEL LIKE IT!
There seem to be a lot of hoarders in Ohio and Kentucky, just sayin'.
(4)