I taught sixth grade chorus for a year at Los Angeles Academy for Arts & Enterprise, a charter school in Echo Park. The school shared a building with a Korean Church and Hillary's 2008 presidential campaign headquarters.
The mostly-latino kids were about a 50/50 mix of enthusiastic and well-mannered children and unrepentant wildlings. English wasn't their second language, it was more like their third, as many of them had Mexican and Central American parents of native descent who spoke their indigenous languages at home.
The school's culture required misbehaving kids to write letters describing the incident they were being punished for. The teacher could add a rebuttal or followup questions, the 'Enterprise' portion of the school's philosophy.
These letters were cogent, evocative and dead honest.  I came upon a pile of them while cleaning out some file cabinets and have transcribed them here. If you're acquainted with this age group, you will hear some familiar refrains.
                                                                       THE FLY
Dear Ms. Bow,
Ms. F sent me to the back to write a paragraph explaining why I was disrespectful.
That happened because a fly kept bothering me. It kept going to tables and then leaving. I tried to hit it but I kept missing. I tried to hit it with a book but still missed. When Ms. F asked me what I was doing I said "nothing" because if I talked about the fly everyone would burst out laughing.
Then a few kids noticed and softly giggled. I just looked at them and giggled. The fly was really annoying. Then Ms. F sent Hector to the back. A while later she sent Graciela to the back. Then when I and a few others laughed, she said to me "You'll be next if you don't pay attention."
I tried to ignore the fly. But it kept landing. Then when Ms. F was talking it landed on my hand. I tried to hit it but it flew away. I turned around to see where it went. I saw Julio laughing at my failure and laughed a little. When I turned back around she thought I was talking.
I mean I had been talking before and she had heard me. I guess I should have explained it was Elmer. Later for example, when Ms. F authorized it. I admit it. Now I'm in trouble so I will take responsibility for my actions.
My apologies to Ms. F and you, Ms. Bow, for making me waste your time with my childish behavior. I am sincere.     Manuel
                                                      BUDDING BOOKWORM
 Dear Ms. Bow,
I was behaving badly because I was reading a book. Because I wanted to know what happened. I was reading it when Ms. F was talking and that's why I got in trouble.
Response: Ms. F would like to know why the book was out when she asked at the beginning of class to put everything away.
I just wanted to know what the book was about and when you said to put it away I was going to and you came to my desk and told me to write a letter. And Ms. F said that we were supposed to put everything away at the beginning of class. I did and Manuel let me borrow the book and then I was reading it. She caught me with the book and I did not respect her to put everything away.       Hector
                                                BLAME TESTOSTERONE
I wish I had music with a different class. Because the boys are really rude. The boys shout instead of sing. I don't like that. I wish boys would just follow directions and stay quiet. But they don't. But I ♥♪♪.       Maria [Written on pink Hello Kitty paper]
 The thing that happens is that all boys don't listen to the teacher and they always talk back. In every class. Almost all the boys except Jose, Darren and Alexander. The girls, we listen.   Jessica
                                    CIRCUMSTANCES BEYOND MY CONTROL
The only reason I laughed is because my friend sneezed like a girl. I started laughing and then Miss F told me to write this letter. Then she sent me to the back of the class.
Response – Miss F does not ask people to write something until they have been asked several times to not talk or fool around. Agree?
NO! I do not agree because sometimes you think I'm playing around but I'm not.     Ramon
Dear Ms. Bow,
Ms. F is maid at me. I was just looking at the girl that was laughing and she put me in the back and told me to write this letter.      Edgar
 I was good but people made jokes and I laughed. And people did funny things when we were singing.     Lesley
I wasn't doing anything bad. I love music. My friends were behaving bad and goofing off. I don't like to stop a lot. Ms. F doesn't like to get mad.      Jose
I was trying to tell Ms. F that I didn't have my songs. I was sharing with Josselin but I stopped because I wanted to tell Miss F the script didn't have some of the songs.
I did get in trouble because I was being disrespectful because I was laughing and talking and making Johnny laugh and other people. I should think before I say something. Next time I'll think before something comes out of my mouth.        David
 I was actually sick from the stomach and my head hurt but Brian was staring at me and he made a funny face and I laughed and then he laughed. But I am sorry to doing that. I wasn't lying about being sick. I hope you accept my apology, Ms. F. I mean it!         Sergio
                                                 PERFORMANCE REVIEWS
 How I really feel about music is happy. Singing kinda expresses my feelings. But some people try to ruin it. People shout out, don't participate and fool around.
Some people hate you because you are mean. I think you're a pretty good teacher. I like this class. I think you should make the bad people go to detention and the good people don't get punished. That way the bad people get jealous and do good.         Darien
I think I haven't been bad cause I like music. When I grow up I want to be a singer but mostly a dancer. Also I like it cause Ms. F is a cool person.        Jacky
Why I don't want to participate is because I get distracted. And also I was trying to talk to Brian R. I had my feet on Brian R's chair and was moving him.
Also I don't like the music that much. It's boring. That's why my behavior is bad. And I am bad each time it's choral music. Then I wanted to talk to Brian R and Ms. F asked me what I was doing. She made me go to the back. That's why I'm writing this essay!!!!
Ms. F is mean a lot. I don't really like music class. I try to behave good so my Life Folder will be good and my mom can sign it. This is the only class I don't like. Reader Theater is better than Music.       Miguel
I like music because I want to be a singer. I like my teacher called Ms F. I didn't behave good with my teacher. The class was bad to get the teacher mad. But I like music and the teacher. I am sorry Ms. F that I got you mad. I will behave better on Thursday.          Johnny
I like music class because Ms. F is really the nicest teacher in the whole school and cares about us.        Julia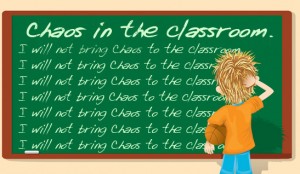 SIGNED CONFESSIONS
Dear Miss F,
I, Manuel Esperroza, got in trouble for talking and interrupting you. You said to stop and I was very close to going to Mr. Louis's office. Well, I'll resume to the end. Before you sent me to the back I was about to ask Mendez what the lyrics were.
I did not want to write the lyrics down so I was going to ask him if he knew the words I did not know. That way, if you asked me I would know them. Before that I must admit I had been talking about other stuff.
But I was trying to stay away from the office. I do not want to be there. I've been there a lot lately. And since you're reading this I should add something else that you might want to know.
I refused to translate for Elmer because he has been giving me a lot of trouble. First, students come to me and ask me to control Elmer because he's giving them trouble. Then Elmer hits me in the head with a lock. Outraged I was.
Then he hits me in the ribs with the lock. Mr Cooligan sent us to the office. Elmer gets in-school suspension and I get a call home. And my mom has to come to school to talk about it. Since then we were told to stay away from each other.
That's my reason for not translating. Well, that's it. I just have to apologize and take responsibility for my actions.           Sincerely, Manuel
Dear Ms. Bow,
I was talking with a boy and Ms. F warned me to stop talking but I didn't stop talking, that's why I got in trouble.           Sincerely, Siomara
 I think it's disrespectful we kept talking and making jokes. Also, we weren't singing we were yelling. It's not good. Sorry, Ms. F. I will not do it again. Bryan R is the worst. Sorry Ms. F.      Anna
Dear Ms. Bow,
Ms.F sent me to the back because I said People's Court. Then she told me to write this letter.
Response: Ms. F does not send people to the back the first time they misbehave. Agree?
Yes, because when I'm bad the first time she doesn't send me to the back.       Anthony
 I was speaking when I wasn't supposed to. I'm so sorry Ms. F. I'll do better next time. I'll sing and won't be disrespectful. Sorry.        Lesley
                                                          UNFAIRLY ACCUSED
I feel like it is not fair that the kids that listen get in trouble. I feel like the kids that don't listen more than twice should get sent to another class. I feel like Ms. F should not get disrespected. That's how I feel.      Patty
I could not sign because I am sad and sick. I'm sleepy in music and I do not like signing. I went to a party and came back at 4AM. I like music but not a lot.      Brian
 Well, Miss, I was singing but if you think I wasn't that's your choice. But if you don't think this is good enough, because I was singing, I really don't have anything to talk about. I was picking up stuff that fell from my backpack. I really wanted to sing but I guess you think I was talking. You're the teacher and it's your decision.       Mimi (and Roxy says hi!)
                                                          POST-GAME ANALYSIS
 I think the class was bad because we were not in school yesterday and maybe we got used to having fun.          Mark
Most of the kids in the class were not participating. I like music, besides all the arguments. I think the class was too loud and hyper. Maybe some kids ate too much sugar today.      Maria
 Some people were disruptive to the class. Some people lied because they didn't want to sing. Some people were probably bored.        Alexander
 Today the class was calling out a lot and I was part of that. I guess the class was tired with music because they wanted to go home.         Bryan
 Some people don't want to participate because they might be tired or maybe because they don't like it.        Marta
Dear Ms. F,
I think that some people think it might be uncool to sing. But I really like music because we get to sing. I think people want to argue because they want to be silly but they are not funny. I think that the song You Got A Friend is great.        Anita
(142)